Está aquí:  
Inicio
Eventos
Eventos Socios
Eventos Socios

Thriving on Change: Achieving Growth in the Americas
Evento
Título:
Thriving on Change: Achieving Growth in the Americas
Fecha:
29 Septiembre 2017 8:30 - 18:00
Descripción
THRIVING ON CHANGE: ACHIEVING GROWTH IN THE AMERICAS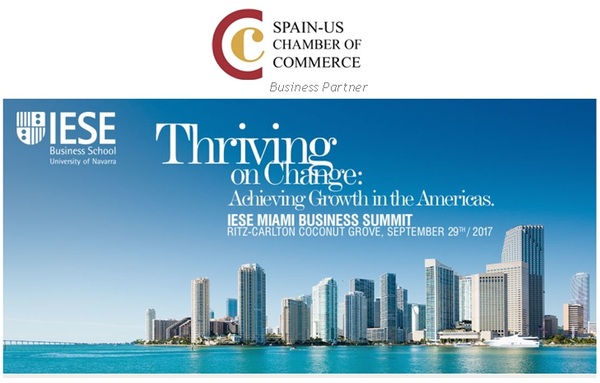 Thriving on Change: Achieving Growth in the Americas is the theme for the IESE Miami Business Summit 2017. The Summit will address the challenges, disruptions and opportunities around growth and competitiveness in today's fast-changing global and technological environment.

This one-day conference will feature several panels of business leaders as well as a high level, global leader as keynote speaker. Building on the success of IESE's first Miami Summit in 2015, 300 to 400 senior executives are expected to attend from across the globe, including corporate decision makers, heads of start-ups and investors doing business in the Americas.
The event will feature distinguished speakers such as Romaine Seguin (President of UPS, Americas), Enrique Ostalé (CEO of Walmart LATAM, India and Africa), César Cernuda (CEO Microsoft, LATAM) among others. Along with speaker and panel sessions, there will be several networking sessions, including a luncheon and concluding cocktail. 

Great networking activities will be available on Saturday September 30th. Note: Registration and payment of the Saturday social activities must be processed separately.
 

DATE
September 29th, 2017
PROGRAM
8:30       Registration, coffee, light breakfast items
9:15       Welcome - Dean Franz Heukamp
9:45       Macroeconomic Outlook - Prof. Pedro Videla, IESE
10:30     Networking coffee break
11:00   Panel Session. Speakers: Romaine Seguin (President of UPS, Americas), Enrique Ostalé (CEO of Walmart LATAM, India and Africa), César Cernuda (CEO Microsoft, LATAM)
12:30     Networking Luncheon
14:00     The New Globalization road map: Enduring Strategies for turbulent times - Prof. Pankaj Ghemawat, IESE
16:00     Dean's Cocktail Reception
18:00     Adjourn
 
LOCATION
  
Ritz-Carlton
Coconut Grove
3300 SW 27th Ave
Miami, FL 33133
REGISTRATION
Members of the Chamber: $120.00 
All others: $150.00 
To register please contact: RSVP@spainchamber.org